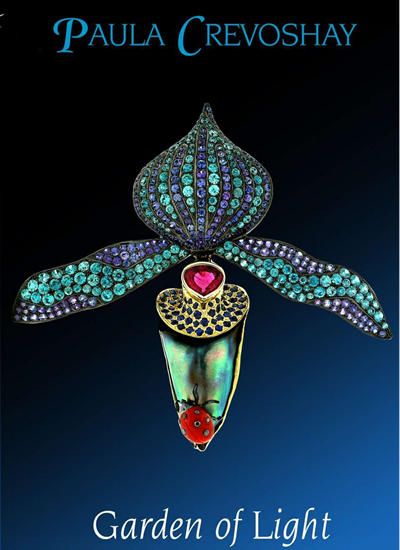 Illuminations – Earth to Jewel
In "Illuminations – Earth to Jewel", Crevoshay set out to take us on a tour of beautiful minerals, the gems we craft from them, and her amazing artistic jewels composed with this wonderful palette. Thus, this exhibition paired exceptional natural mineral specimens from the collection of the Musée de Minéralogie at Mines ParisTech with exquisite jewels, juxtaposing the greatest art of nature and the vision of one of its finest artistic interpreters.
Paula Crevoshay, as a painter, has long been fascinated by the idea of painting with the light itself rather than relying on light reflected from the paint on a two dimensional canvas. Working with gemstones, Crevoshay's artistic medium is the "tangible light" seen within the gems themselves. She is fascinated by the incredible profusion of minerals available to the modern artist to work with, and has made it a goal to set as many different varieties as possible in her lifetime.
"Illuminations – Earth to Jewel", Crevoshay's first European exhibition, proved to be very popular. The museum asked to hold the show over for two more months. In addition to Europe, visitors came from Asia and the Americas to see this spectacular Crevoshay presentation. Please enjoy!