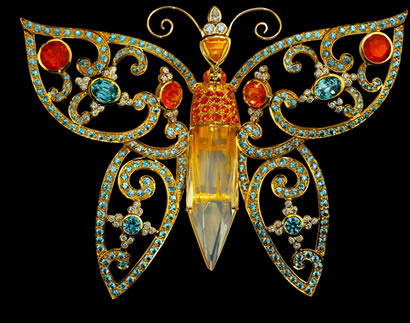 Welcome to the wonderful world of Paula Crevoshay!
You are about see jewelry in a whole new light. First, it's all about you! Paula believes that every piece she creates has its destined owner and she delights in seeing each jewel find its home. Jewelry should bring out the natural beauty of the wearer and Paula designs with this in mind.
Second, it's about the art of the jewel. Each piece is truly rare, subtle and beautiful. Crevoshay jewelry is not mass produced so you are always getting original art. You will be introduced to extraordinary treasures from the earth that you won't find at purveyors of mass produced jewelry.
Paula Crevoshay is celebrated by experts as one of the great talents of our time. The Woman's Jewelry Association has just given her their Annual Award for Excellence in Design and you can find her work on display at the Smithsonian, the Carnegie and other prominent museums. Auction houses are following Crevoshay's career in preparation of the secondary market.
Accumulation versus Collecting
What is the difference between accumulating and collecting? Although there is nothing wrong with people buying things they like, conscious collecting requires more involvement and pays greater dividends in terms of enjoyment. Collecting includes learning about the artist, the materials and techniques and the social and economic context in which the art is produced.
Collecting jewelry opens windows on both social history and natural history. Collecting contemporary jewelry lets you participate in that development. Collecting Crevoshay jewelry brings, in addition to the delight in the great beauty of this artist's works, an appreciation of the best of nature's wonders and of human talent and skill.
Exclusivity is the Ultimate Luxury
Industrialization and mass marketing brings goods, including jewelry, to people who could otherwise not afford them, which is good. The down side is they bring the artistic taste in our culture down to the broadest common denominator. Crevoshay's work brings us back to the glory days of the high courts where artists, not marketers, were the culture bearers.
"Fashion Fades, Style Remains" Coco Chanel
Paula Crevoshay is one of the few, if not the only, jewelry designer of national prominence who only makes one-of-a-kind jewels. This is important to collectors because their jewelry will be an expression of their unique taste. Rather than following the fads, women of style dress to enhance their own natural beauty and thus transcend fashion and become timeless.
This is also important to the collector because as consumers they are helping to keep the knowledge and skill of handwork alive. An added benefit is that original art has much more upside potential in the secondary market than mass produced works.
Collecting Crevoshay is no different than collecting any art. While there is much good advice to guide the collector we believe that these basic guidelines apply to investing in all art, including jewelry:
Pick artists that are well known or that you think may be about to become well known. The best are represented in major museums.
Although there is never any guarantee of appreciation, original, one-of-a-kind pieces by well known artists are more likely to be valued and sought after in the future than production pieces or items by less well known artists.
Trust your own taste.
Buy art that you like and enjoy. The best and most interesting collections are built by connoisseurs, not by committees.
Buy art that is suitable for the display area.
Crevoshay designs jewelry with bone structure and skin tones in mind. Buy jewels that enhance your natural beauty.
Empower by combination.
Build suites of jewelry that you can wear together and that you can mix and match. Think in terms of themes and counterpoints. Expand you jewelry wardrobe to enhance your lifestyle and all the wonderful occasions you enjoy throughout the year.
Creating a collection of Crevoshay jewels is fun!
"I believe this is how collectors are born. Enthusiasm breeds excitement and excitement in turn produces the longing to contemplate and then possess. I am happy to say that these feelings, far from fading as the years pass, only increase in their intensity." Marie-Claude Lalique