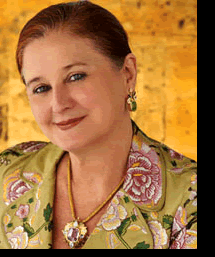 Paula Crevoshay has attracted award-winning attention from the beginning of her career. She graduated with honors from VCU in Richmond Virginia and won a full scholarship to the University of Wisconsin where she earned her Master of Arts degree in 1977. Marrying the Fulbright Scholar, George Crevoshay, in 1978 she moved to India for three years and was given two one woman shows of her paintings and sculptures. The British Council of the Arts collected several of these works.

Having been inspired by the antiquity of Asia, She returned to America in 1981 where she launched her first collection of one-of-a-kind art jewels. Her awards and achievements took her, as a jeweler, very quickly to the fore front of modern design. Combining the disciplines of fine art, gemology and history with jewelry making transformed Crevoshay into a fresh, unique talent. In recent years she has gained renown as one of the leading designers of our time. Her work has been shown at such museums as the Smithsonian and the Carnegie, among others, as an exemplar of the very best, and it can be found in many important public and private collections.
In our age of mass production and the prevalence of the lowest common dominator, where many are seeking the next "hot" trend, it is refreshing to meet the rare talent who is consistently dedicated to the highest ideals of quality and excellence in their art. Paula Crevoshay is such a light and has been compared to Lalique and Faberge. She is among the best of our generation. The qualities that exemplify her work are:
Timeless Style – Paula Crevoshay's modern sensibility combined with her knowledge of archetypes and art history imbue her designs with a signature look that is at once as old and deep as the oceans and as fresh as the morning dew. Her creations, like all beautiful things, have timeless appeal.
Extraordinary Stones – Rare, and often unique, stones are a hallmark of Crevoshay jewels. The artist is fascinated with the bounty that nature offers us in the mineral kingdom in shape and form, color and play of color, and the way gems make light tangible. She shares her joy in the rarest treasures of the earth in her work.
Harmonious Compositions – Paula Crevoshay has an unerring sense of balance. This, combined with her refined and subtle use of detail and color, imbues each jewel with elegance and sophistication.
Exquisite Craftsmanship – Most Crevoshay jewels are completely hand crafted in 18K. Many of the ancient and labor intensive techniques are little used today. A typical piece may incorporate bezel setting, multiple finishes, piercing, granulation and hand engraving.
Beautifully cut Gemstones – Setting the highest standards in cut, proportion and finish has been a feature of Crevoshay from the beginning. Many stones have been cut in-house to meet the rigorous requirements of the artist.
Masterful use of Color – Paula Crevoshay is regarded by many knowledgeable people to be the best colorist working in jewelry today. Her combinations of stunning beauty run from the very subtle to the eye popping, and bring out the best in every gem she sets.
Highly Versatile use – Because she counts many engineers among her ancestors, it is no surprise that the technical design on many jewels is as amazing as the rest of the composition. Some pieces can be worn as a brooch or pendant or clasp and also accommodate a pearl drop or briolette.
My collection is an extension of my spirit. Living in beauty is as necessary to my soul as drinking water is to my physical being. Each jewel is imbued with this love of life, this respect for nature's omnipotent power and there is a talismanic property inherent in every finished jewel. I hear the stones speak and they tell me what they wish to become. I normally begin with the heart of the jewel's center stone and then the accent stones radiate outwardly to support the innermost beauty of the jewel's essence.
From the outset of my career as a jewelry designer in 1980, my mission has been to define jewelry as a fine art discipline on the same level as a painting or sculpture. This is the primary reason I have set a straight course of creating one of a kind, highly collectable jewels. I want to help create a model in our culture for jewelry artists to be able to make a living creating the finest work that they can without consideration of what is easy to mass produce or what will sell in volume.
I have been blessed with angels, patrons and collectors whose enthusiastic support has allowed me to fulfill my dream to create truly rare, subtle, beautiful and collectable jewelry. I want to express the best that our generation can achieve. I hope that my life and my art will enrich humanity and be a blessing and inspiration to future generations of patrons and artists.