Conchita - Inspiration and Process
A year ago a Smithsonian spokesperson approached me asking if I would be willing to take an amazing collection of Montana sapphires that were so generously being bestowed to the Museum by Robert Kane of Fine Gems International and create a finished jewel for our nation's Gem and Mineral collection so the many small stones could be preserved and beautifully displayed.
Without a moments hesitation I answered, "I would be honored." The process unfolded like a flower with all its many stages.
First, there was the question of what these delicious, highly refractive sapphires would wish to become. I felt our National gem and mineral collection should have a marvelous image to symbolize our nation's immeasurable natural beauty that the sapphires from Montana represent. As I pondered the range of colors of Montana sapphires with their many primary and secondary hues, I decided I would like to honor my mother's amazing spirit and her love of the butterfly. As a child living in the Deep South I would catch Monarch butterflies every season just to see their magnificence a little more closely (and then of course let them go). My mother had raised me to believe that the butterfly symbolized the Holy Spirit, Resurrection and Creation itself.
I have named the butterfly "Conchita" as my mother has left the physical plane and her deep connection with nature, spirit and freedom touches all that I am or do.
The artistic vision and creativity that flows abundantly through me always seeks an anchor to balance that flow and channel it into the finished product. That is where the academic and scientific brilliance of Robert Kane enters. This blessed spirit focused the selection and fine tuning of the gemstones so that each one set was perfectly cut to classical proportions and were perfectly clean under high magnification. His uncompromising integrity and commitment blending with my creativity and free spirited truth produced a jewel that will become part of our great nation's heritage and a source of delight and learning for generations to come.
Paula Crevoshay
February, 2007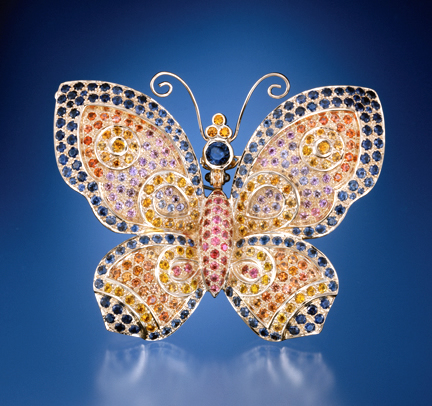 This magnificent scintillating butterfly of Montana Sapphire demonstrates their amazing quality and range of color. A collaboration by designer Paula Crevoshay and gem dealer Robert Kane of Fine Gems International, it will make an important addition to the National Gem Collection at the Smithsonian. The rare and little known sapphires in this treasure will delight and educate both visitors to the museum and scholars alike for generations to come. This fabulous jewel includes 333 sapphires weighing 27.97 carats and 98.48 grams of 18K gold.
---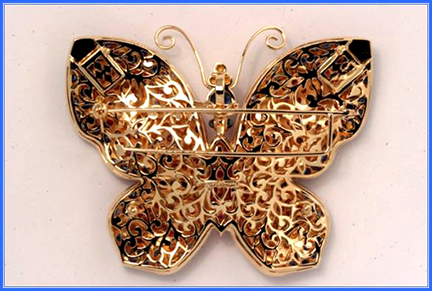 As is typical in Crevoshay jewels, the back is as carefully designed and wrought as the front. The Butterfly can be worn as a brooch or as a pendant. It has boxes attached so that it can be incorporated into an elaborate neckpiece or strung with beads as well.